Post by spannernick on Dec 3, 2018 17:58:26 GMT
..To work with the TheC64 Mini as a keyboard.
I have one here well 2 of them and they use the same keyboard it's called a Mailboard that based on a ZX Spectrum Keyboard,
I think its USB
Its a PS/2 keyboard but was made in 1999, released in 2000.
My one is from a Amstrad E3 emailer,the OS is MontaVista Linux and hardware wise it's a TI OMAP 5910 at 150MHz, with 128KB of NOR flash containing the bootloader, 32MB of NAND flash and 32MB of SDRAM. There's a passive 12bit colour LCD at 480x320, OHCI USB host, a hardware 56k Conexant modem.
This is one of the first devices like the mini consoles to use Linux this way, it works the same way as TheC64 Mini, just has different firmware on it to make it act like a Landline desk phone.
The code for the Mailboard is here..
code.google.com/archive/p/amstrad-mailboard/
I wonder if Vice could run on it,well it could run ZX Spectrum games..

Here is mine playing Space Invaders and Tetris..
I still use mine the Emalier Plus,it has a blue/green screen,I use it as a answering machine now.The other one I have is the E3 but its locked and you can't use any of it now.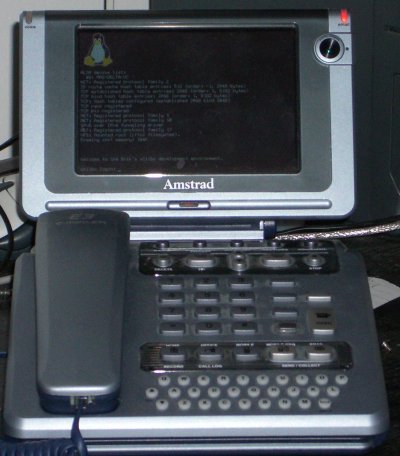 Picture of the Mailboard from the Emailler Plus
Here is a post about it working with a Raspberry Pi.
www.element14.com/community/thread/17965/l/a-pi-laptop?displayFullThread=true
More info..
www.earth.li/~noodles/hardware-e3.html
www.amstrad.com/products/emailers/e3.html
Both of my Amtrad Emailers are on wikipedia...

en.wikipedia.org/wiki/E-mailer
Hehe look familiar...

Amstrad Delta - PBL V4.9 Build:1311 Assert Debug ICE
PBL 32MB NAND
0MB.-->MEMv01.00.002,CopyLim=00220000h,CodeEnd=01400000h-->PBL......1MB.......2MB*


System module loader - LDR V1.5 Build:0008 Assert
Mod scan 10010100 to 10230100
MEM - 10024000 (flash 00404000)
PARMS - 10024400 (flash 00404400)
LDR - 10024800 (flash 00404800)
LINUX - 10044000 (flash 00424000)
num modules: 4
checking LDR V1 at 10024800, alive=0, load=10002000
checking LINUX V1 at 10044000, alive=0, load=11800000
checking MEM V1 at 10024000, alive=0, load=11F00000
checking PARMS V1 at 10024400, alive=0, load=11900000
4 Modules processed, 4 are valid
LDR thinks global number for them is 1
Found mod <LINUX> V=1 at 10044000
Found mod <PARMS> V=1 at 10024400
Linux command line module (PARMS) found at 10024400
INITRD Not found
Linux start-up params (Any key to edit)
Found mod <LINUX> V=1 at 10044000
Uncompressing Linux........................................................ done, booting the kernel.
Linux version 2.4.18_mvl30-ams-delta (droberts@dev1-linux) (gcc version 3.2.1 20020930 (MontaVista)) #1 Mon Aug 23 07:34:07 BST 2004
CPU: ARM/TI925 Arm925Tsid(wb) revision 2
Machine: AMS-DELTA/OMAP1510
modem enable 0
On node 0 totalpages: 7424
zone(0): 7424 pages.
zone(1): 0 pages.
zone(2): 0 pages.
Kernel command line: console=ttyS0,115200n8 init=/start_cramfs rootfstype=cramfs root=/dev/dfdb4 ro ams_mmod_base=0x10FFF000 ams_mmod_size=0xFFF mem=29M ams_mod_ver=1
unmask_irq(#e)
rtsched version <20011203.1609.50>
Console: colour dummy device 80x30
Calibrating delay loop... 74.75 BogoMIPS
Memory: 29MB = 29MB total
Memory: 27272KB available (1386K code, 493K data, 64K init)
Dentry-cache hash table entries: 4096 (order: 3, 32768 bytes)
Inode-cache hash table entries: 2048 (order: 2, 16384 bytes)
Mount-cache hash table entries: 512 (order: 0, 4096 bytes)
Buffer-cache hash table entries: 1024 (order: 0, 4096 bytes)
Page-cache hash table entries: 8192 (order: 3, 32768 bytes)
POSIX conformance testing by UNIFIX
Linux NET4.0 for Linux 2.4
Based upon Swansea University Computer Society NET3.039
Initializing RT netlink socket
Starting kswapd
Disabling the Out Of Memory Killer
Installing stub AMS_DELTA keyboard driver.
pty: 256 Unix98 ptys configured
SERIAL DRVR
Serial driver version 5.05c (2001-07-08) with no serial options enabled
ttyS00 at 0xfffb0000 (irq = 46) is a OMAP UART
ttyS01 at 0xeb000000 (irq = 66) is a Smart SMC
omap-rtc: RTC power up reset detected.
omap-rtc: Enabling RTC.
Real Time Clock Driver v1.0
block: 64 slots per queue, batch=16
RAMDISK driver initialized: 16 RAM disks of 4096K size 1024 blocksize
DSPLinux FB (c) 2001 RidgeRun, Inc.
Looking for mono/colour, GPIO=FB93, proc_conf_bit=800
LCD is colour, 16BPP
tifb_init v_screen_base:C1C81000
tifb_init_palette_color : set palette[0] at C1C80FE0 to be 4000
tifb_init_registers
lcd_write_top_address
fffedb04 11c8
wrote fffedb04 11c8
fffedb02 %
wrote fffedb02 0fe0
lcd_write_bottom_address
fffedb08 11cc
wrote fffedb08 11cc
fffedb06 cefe
wrote fffedb06 cefe
fffedb00
wrote fffedb00 00000004
tifb_init_dma size=311072
tifb_init_dma base=11c80fe0
tifb_init_dma end=11cccefe
print_lcd_regs
control: fe800e64 status ffffff92 timing0 000009df timing1 00000143 timing2 fc002504
lcd_enable Entered
lcd_enable Exit
tifb_init_registers Exit
tifb_init now call to tifb_map_video_memory
tifb_init setup LCD IRQ handlers (31 and 25)
tifb_set_var display->bpp = 16
tifb_setcolreg : set palette[0] to be 4000
tifb_init call to register_framebuffer()
Registering FB MAJOR 29 Minor 0
MKS - visual_init 0
do_install_cmap
tifb_setcolreg : set palette[0] to be 4000
tifb_setcolreg : set palette[0] to be 4000
do_install_cmap
tifb_setcolreg : set palette[0] to be 4000
Looking for mono/colour, GPIO=FB93, proc_conf_bit=800
Looking for mono/colour, GPIO=FB93, proc_conf_bit=800
tifb_setcolreg : set palette[0] to be 4000
Console: switching to colour frame buffer device 60x40
tifb_init SUCCESSFUL exit!
usb-ohci.c: USB OHCI at membase 0xfffba000, IRQ 38
hub.c: USB hub found
hub.c: 3 ports detected
pegasus.c: v0.4.22 (2001/12/07):Pegasus/Pegasus II USB Ethernet driver
usbserial.c: USB Serial Driver core v1.4
belkin_sa.c: USB Belkin Serial converter driver v1.1
MFS-DFD: flash base = 00400000, size=01c00000
MFS-DFD: device_size=02000000 block_size=16384
MFS-DFD: remap table initialised to 1:1 mapping
MFS-DFD: reading media descriptor 1
MFS-DFD: Found valid media descriptor
MFS-DFD: block: 00508000 is remapped to 01f40000
MFS-DFD: block: 01cc4000 is remapped to 01f44000
MFS-DFD: block: 00508000 is remapped to 01f48000
MFS-DFD: Finished building remap after 3 entries
boot_partn=1 but this is IGNORED!
MEM1 Module found a@404000
FSYS1 Module V1 found @624000
Looking for LNXFSYS in pos 2 at 008A4000
FSYS2 Module V2 found @8a4000
FSYS - res == OK
FSYS - both FSYS1 and FSYS2
FSYS - FSYS1 version < FSYS2 version so boot = 2
FSYS - active version = 2
Swapping partitions - boot partn % 2 = 0
Numpartitions =6
0 DFD 00000000 to 01ffffff
1 FFS 00000000 to 003fffff
2 MFS CODE 00400000 to 013fffff
3 MFS AGF 01400000 to 01ffffff
4 FILESY2 008a4100 to 00b1ffff
5 FILESY1 00624100 to 008a3fff
dfdblk: init complete, 6 devs, blks 1024 size 32768 4096 16384 12288 2543 2559
NET4: Linux TCP/IP 1.0 for NET4.0
IP Protocols: ICMP, UDP, TCP, IGMP
IP: routing cache hash table of 512 buckets, 4Kbytes
TCP: Hash tables configured (established 2048 bind 4096)
IP-Config: No network devices available.
VFS: Mounted root (cramfs filesystem) readonly.
Freeing init memory: 64K
hub.c: USB new device connect on bus1/1, assigned device number 2
pegasus.c: eth0: Belkin F5D5050 USB Ethernet
pegasus.c: setup Pegasus II specific registers
Using /lib/modules/2.4.18_mvl30-ams-delta/kernel/net/unix/unix.o
NET4: Unix domain sockets 1.0/SMP for Linux NET4.0.
Using /lib/modules/2.4.18_mvl30-ams-delta/kernel/fs/ramfs/ramfs.o
extracting links.tar.gz
removing mnt
removing proc
removing var
removing dev
removing etc
removing delta/aec_config.txt
Using /lib/modules/2.4.18_mvl30-ams-delta/kernel/drivers/char/ams_keyb_mod.o
request_irq(#41) - calling request_fiq()
request_fiq(#41), handler c201c7f0, irq_flags 0, devname keyboard, dev_id 00000000
install_fiq_handler(): claimed FIQ OK . retval = 0
install_fiq_handler(): Handler in RAM
install_fiq_handler(): set_fiq_handler()
set_fiq_handler() FIQ_VECTOR = FFFF001C
enable_irq(#41)
gpumsk(#41),cmsk #FFFF, inp #FB93, cnt #4, sta #0 5990
request_fiq(#41) - END
Using /lib/modules/2.4.18_mvl30-ams-delta/kernel/drivers/char/ams_beep_mod.o
Done AMS_DELTA simple beep install - old_func=C00B8310
Using /lib/modules/2.4.18_mvl30-ams-delta/kernel/drivers/media/video/videodev.o
Video for Linux One (2.2.16). Major device: 81
Video for Linux Two (V0.20). Major device: 81
Using /lib/modules/2.4.18_mvl30-ams-delta/kernel/drivers/media/video/omap/v4l2-omap.o
camif: Initializing, DMA to SDRAM
camif: camera module detected, facing backward
sccb: registered SCCB
camif: OV6X30 / OV6X50 camera detected
V4L2: Registered "OMAP1510 V4L2 Capture Driver" as char device 81, 0
Using /lib/modules/2.4.18_mvl30-ams-delta/kernel/drivers/usb/printer.o
printer.c: v0.8:USB Printer Device Class driver
Using dfd.o
insmod: init_module: dfd: Device or resource busy
MPU
MPU_L1_ITR 0
MPU_L1_MIR 3defbffc
MPU_L1_SIR_IRQ_CODE 0
MPU_L1_SIR_FIQ_CODE 0
MPU_L1_CONTROL_REG 0
MPU_L1_ILR14 7d
MPU_L1_ISR 0
GPIO
GPIO_DATA_INPUT fb90
GPIO_DATA_OUTPUT 0
GPIO_DIRECTION_CONTROL fcff
GPIO_INTERRUPT_CONTROL 4
GPIO_INTERRUPT_MASK fffd
GPIO_INTERRUPT_STATUS 0
GPIO_PIN_CONTROL ffff
Using ams-delta-sys.o
Ams_delta_sys driver version 1.0
10fff000: Allocated
10fff800: Allocated
Using smartcard.o
smartcard:smartcard_init: Entered
Smartcard driver version 1.0
smartcard:smartcard_init: smartcard major no=250
Using hdwdock.o
Dock-it driver version 1.0
Using dsplinkk.o
Using shmemModule.o
Using /lib/modules/2.4.18_mvl30-ams-delta/kernel/drivers/char/omap_wdt.o
omap_wdt: TI OMAP Watchdog Timer: timer margin 19 sec
Using /lib/modules/2.4.18_mvl30-ams-delta/kernel/net/unix/unix.o
insmod: A module named unix already exists


== WATCHMAN STARTING =====
Watchdog default timeout = -1073742332
Watchdog timeout set to = -1073742332
Watchdog Ticking Away!
create_server_socket() - Creating AF_UNIX socket
CHILD: Forked - child
&watchman_ws 0x8080a8, watchman_ws 0x123456
CHILD: msg.type = 1
CHILD: msg.pid = 95
CHILD: msg.psys_watchman_ws = 0x8080a8
Sending message


WATCHMAN: rxd PROCESS_PROFILE_TYPE msg
psys_watchman_ws0x8080a8
Recombined IMPORT_LIBC ver 1
Recombined M_LNG ver 1
Recombined sasken1 ver 1

Global Build Number = 1
Process id is 95
Skipped 448
Skipped 448
Skipped 448
Skipped 452
Skipped 452
Skipped 452
Skipped 463
Skipped 463
Skipped 463
Skipped 502
Skipped 502
Skipped 502
Skipped 2124
Skipped 2124
Skipped 2124
Hello World
printf ordinal now being mapped to dummy function. 008115BC being set to 00BF44F8
puts ordinal now being mapped to dummy funcfb_open Open fbidx=0 info=c01df6c4
tion. 008117B4 being set to 00BF44F8
Bye then..
printf now rtifb_encode_fix() just set the fix->len field to 4BF00
emoved
modem enable 3107
request_irq(#42) - calling request_fiq()
request_fiq(#42), handler c00c2698, irq_flags 4000000, devname serial, dev_id c01cedc0
enable_irq(#42)
gpumsk(#42),cmsk #FFFD, inp #FB90, cnt #4, sta #0 31070
request_fiq(#42) - END
smartcard:smartcard_open: Entered
KBC set to FFFD
tifb_encode_fix() just set the fix->len field to 4BF00
KBC set to FFFD
KBR value is FFFF and GPIO=FB90
KBC set to FF00
driver set LCD contrast 112
PWT volume set to 20
DFD: dfd_fsys_ver_num=2 returned in ioctl call
WRITE_REG CALLED reg fffece00 size 4 value 250e
WRITE_REG CALLED reg fffece10 size 4 value 6
WRITE_REG CALLED reg fffece08 size 4 value 6ff
WRITE_REG CALLED reg e1008014 size 4 value 10001
WRITE_REG CALLED reg e1008000 size 4 value 1990199
WRITE_REG CALLED reg e1008008 size 4 value 3f003f
WRITE_REG CALLED reg fffe1080 size 4 value 10000222
driver set LCD contrast 116
free_irq(#42) - calling free_fiq()
disable_irq(#42)
gpio_mask_irq(#42)
free_fiq(#42)
modem disable 3556
modem enable 3566
request_irq(#42) - calling request_fiq()
request_fiq(#42), handler c00c2698, irq_flags 4000000, devname serial, dev_id c01cedc0
enable_irq(#42)
gpumsk(#42),cmsk #FFFD, inp #FB90, cnt #4, sta #0 35660
request_fiq(#42) - END